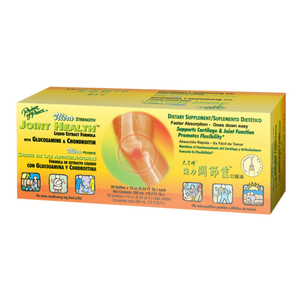 太子牌強力關節靈口服液

,
Ultra Joint Health Liquid Extract, 30 x 10cc
30支裝
隨著年齡增長,身體生產軟骨素的能力反而會隨之下降。葡萄糖胺是製造軟骨和修補關節組織的必需元素。軟骨素在人體內負責製造、滋養和修補膠原蛋白, 從而強化軟骨組織,它同時引導液體和養份流向軟骨 ,扮演軟骨及關節間避震的角色。
太子牌強力關節靈口服液使用葡萄糖胺和軟骨素的專利配方,以高科技提煉技術製成此口服液。瓶裝方便飲用,又提升了吸收的效果,避免了吞咽又大又硬的膠囊。本產品更有助於舒緩每日的活動磨損,並且可強化關節之間的伸縮性。
使用方法:
作為保健品,日服一瓶。產品附飲管以便飲用。產品沉澱屬正常, 服用前請搖勻。
主要成分:
卡路里, 糖, 硫酸軟骨素及氨基葡萄糖盐酸盐
其他成分:
純淨水、糖和酒精(含量少於0.5%)、 山梨酸鉀(穩定劑) 及 苯甲酸鈉(穩定劑)
重要健康警告:
正接受醫生治療或有任何健康問題者、 孕婦及餵哺母乳者, 在服用此保健產品或其他保健產品前,務必向有關醫務人員查詢,以策安全。
過敏警告:
本產品含有甲殼類貝類(蝦和蟹)
中國產製
淨含量: 30支裝, 每支10cc(0.34液盎)
As we age, our body's ability to produce the nutrients necessary for supporting cartilage declines. Glucosamine is a natural ingredient that supports the necessary building blocks of cartilage.*

In the body, Chondroitin is known to form, nourish, and replace collagen, which helps make up our cartilage. It attracts fluid to cartilage. This lubricating fluid acts as a shock absorber cushioning bones and joints.*
Prince of Peace Ent., Inc.® Brings you this highly refined Ultra Joint Health Extract in a special formulation with Glucosamine and Chondroitin. Using an advanced processing technique, this liquid extract formula goes down easy and helps for faster absorption. No more swallowing big hard pills! Our special formulation helps support cartilage and joint function for everyday activities.
Directions:
As a dietary supplement, 1 bottle may be taken daily. Insert pointed end of the straw through the top of cap.
Sediment does not affect the quality of this product. Shake well before using. 
Main Ingredients:
Calories, Sugars, Chondroitin Sulfate, Glucosamine Hydrochloride
Other Ingredients:
Purified Water, Sugar and Alcohol (Contains less that 0.5%), Potassium Sorbate (preservative), Sodium Benzoate (preservative)
Important Health Warnings:
Persons who are taking prescription medication and/or who have a health condition, or persons who are pregnant or nursing, should consult a healthcare professional before using this or other dietary supplements.
Allergy Warnings:
Contains Crustacean shellfish (shrimps and crabs).
 ** These statements have not yet been evaluated by the United States Food and Drug Administration.
Actual product packaging and materials may contain more and different information than what is shown on our website.