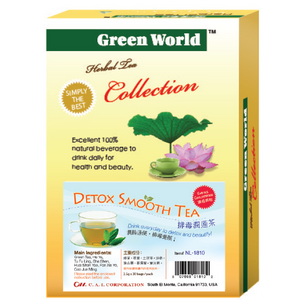 神奇排毒潤通茶Detox Tea 2.5gx30bags 
Made in USA
Main Ingredients: 
Green Tea, Tu Fu Ling, Sha Shen, Huai Shan Yao, Fan Xie Ye, Cao Jue Ming.
Caution:
Not suitable for people under 18 years of age and women during pregnancy or breast-feeding.
Package:
2.5g x 30 tea bags / box

Suggested Usage:
Brew 1 tea bag each time, once a day. Drink the tea warm after 3-10 minutes. Repeat until the tea becomes flavorless, then throw the tea bags away.
*This statement has not been evaluated by the Food and Drug administration. The product is not intended to diagnose, treat, cure or prevent any disease.