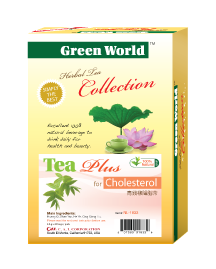 神奇降脂茶 Tea Plus for Cholesterol 
(30 tea bags)
Made in USA
Main Ingredients: 
Huang Qi, Shan Yao, He Ye, Qing Qiang Liu.
Caution:
Not suitable for people under 18 years of age and women during pregnancy or breast-feeding.
Package:
2.5g x 30 tea bags / box

Suggested Usage:
Once per day, after breakfast or lunch, brew 2-3 tea bags with hot water (only) for 5-10 minutes and drink the tea while it is still warm. Refill and keep drinking the tea three ~ four times or until the tea becomes flavorless.

Do not drink the tea cold.

Do not drink with an empty stomach.
*This statement has not been evaluated by the Food and Drug administration. The product is not intended to diagnose, treat, cure or prevent any disease.